48 games spread over 45 days, played in 10 breathtaking venues across the UK and Wales; 10 countries fighting for the coveted prize of Cricket champion of the World; billions of viewers globally, insane advertising revenues generated and most importantly, loads of fun – that's the Cricket World Cup for you.
Was this the best World Cup ever? This is the most common question that is frequently asked at the end of any World Cup or major sporting competition. And the answer has unquestionably been yes, barring a few exceptions along the way. But was the 2019 Cricket World Cup the best ever – well, yes in most parts.
The Best Format!
For starters, the World Cup was played in the best format, and in my opinion, with the right number of teams. 10 teams fighting it out in a league ensured that the best 4 teams made it to the knock-outs. No excuses about one bad day or one abandoned game costing you a place in the semi-finals! Consistency in producing wins was important and invariably, the teams that made it to the semis were the ones that were consistent right from the beginning, and even before the start of the World Cup for that matter. This structure also gave teams the hope that they could overcome a slow start to the competition, by coming back stronger in the later stages. Pakistan did that in 1992, the last time a similar format was used, and England used the opportunity to put some insipid performances behind them by staging a great comeback in the last two round robin games. I truly hope that the ICC sticks to this format in all future Cricket World Cups.
Add to this, the fact that the round robin stage was alive right till the last game, kept everyone entertained and interested. The result of that game between Australia and SouthAfrica in a way totally turned the tables upside down. If not for the Proteas winning it, we would have had a completely different semi-final line-up and possibly even a different World champion. There were also hardly any dead rubbers, and that made for fascinating viewing.
First and Second Tier teams?
The Cricket World Cup also gave us a little peep into what future limited overs cricket (50 overs) might look like. With the predicted top-4 line up, we did get an indication that India, Australia, England and NewZealand will be the teams that will dominate 50 over cricket for the next few years, leading into the 2023 World Cup and beyond. This might not be the best for the game, but it also tells you the amount of work and money that goes into making them super successful. Any team trying to break this top bracket will have to be extremely strong, consistent and intelligent in the way they approach and execute their brand of cricket.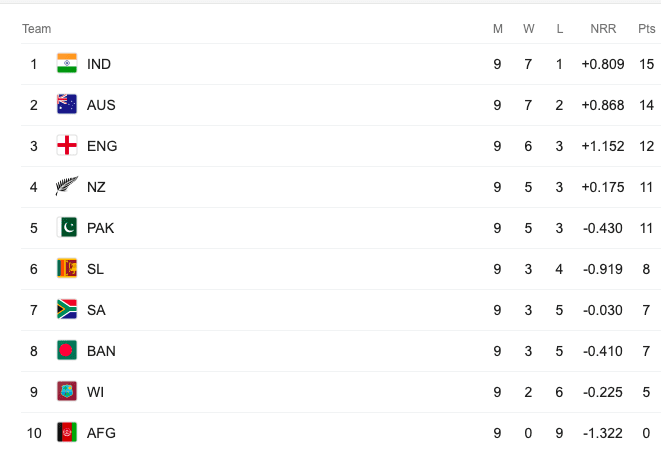 Now as far as the 'second' tier of teams are concerned, a look at the final points table will tell you that Bangladesh finished in 8th position, below SouthAfrica and SriLanka. But it wouldn't indicate that they were in the competition right till the last week of round-robin fixtures, even after SriLanka's exit from it. And although SouthAfrica finished in 7th position, they were out of the running a long time ago. It will be interesting to see how these teams, especially Bangladesh, SriLanka, SouthAfrica and WestIndies react to their World Cup performance and how they take their cricket over the next 4 years.
10/10 to the ICC – Reserve days
There has been a huge cry over having reserve days for round robin games as well. It is a fact that 7 out of 10 teams were involved in atleast one abandoned game during the competition. It is not the best result, and there is always the case of some teams feeling that that might have affected their chances in the competition. But Cricket being an outdoor sport, and grounds still not at the level where matches could happen even during rain, it has to be accepted that rained-out games are part of Cricket. Having reserve days for every round-robin game produces expected problems with logistics, scheduling and television coverage.
Having said that, the method used in this World Cup of having rain-interrupted knock-out games to continue from where it finished off, into the reserve day, has to be applauded. The last thing we need is the game starting from the beginning on the reserve day and rain affecting most of the reserve day as well. Getting the India v NewZealand game to continue from where it finished ensured that only around 54 overs required to be bowled on the reserve day. This meant that even if rain had arrived for 4-5 hours on the day, there was still a chance of getting a completed game. This was used earlier in the 1999 World Cup, but was abandoned for some reason in the 2002 Champions trophy. Getting this back now is a great step in the right direction.
And then there was the super over!
World cup finals aren't usually the most interesting. The 2011 finals was captivating, and before that, the 1987 version. Apart from these two, most other finals have been one-sided. And when India and NewZealand played out an interesting semi-final game, one felt that the World Cup already had its share of an interesting knock-out game. But what followed was the best finals ever in the history of the competition, with the most farcical of finishes. It was the first super over of any World Cup, and for it to happen in the finals made for fascinating viewing.
But for the super over to also end in a tie was truly unexpected. When Jimmy Neesham hit that six off Joffra Archer, one felt that the Kiwis had one hand on the trophy. You would expect them to take 3 off the last two balls wouldn't you? But you would have expected Ben Stokes to have done that earlier too right? Well, both of them failed, and what resulted was a super over tie. Err, how do you determine a winner now? Easy, peasy!!! Read below. It gets more fascinating as you go on reading!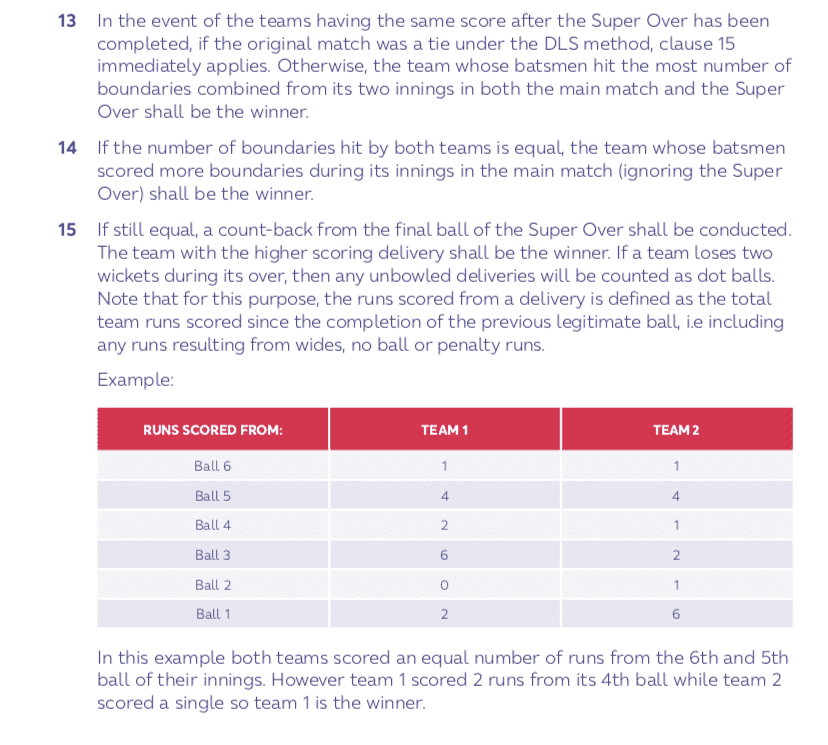 Looks strange? Funny? Incomprehensible? – Number of boundaries? Number of boundaries in the main game alone? Count-back? Oh yeah – Ball 6 is more important that Ball 5 isn't it? I did not know that!!!
And to think that some of the best former cricketers, administrators and lawmakers in world cricket came up with this seems even more baffling and ludicrous! It is one thing to ensure that there is a winner at the end of almost 45 days of good cricket, but to determine that winner based on something as trivial as the number of boundaries a team scores is something else altogether. Runs are runs right? How they come does not matter does it? Infact runs is the only thing that differentiates a winner and loser in this game. So, how does it matter how I get them? Am I being told that running 4 singles in 4 balls is not the same as scoring a boundary and playing 3 dot balls after?
To have a super over at the end of a tied game is fair to most, but the fact that the super over ending in a tie should tell you something so blatant – that you have two teams that are equally strong, and equally deserving of the title of being winners. When playing conditions state that the trophy should be shared in case of a wash-out (reserve day including), isn't it even more apt that the same should be done in the case of a super over tie when both teams absolutely cannot be separated after 102 overs of Cricket? Something to think about for sure!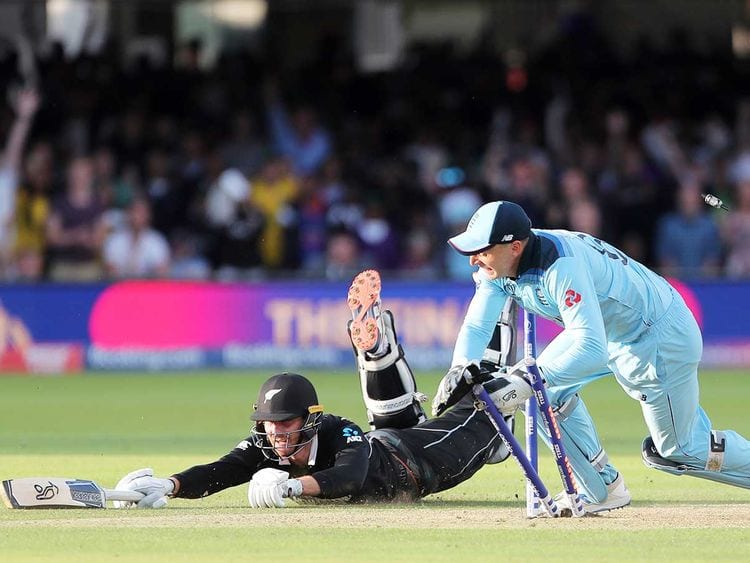 The World Cup had everything!
England were deserving champions after all. They won their last 4 knock-out games, beating India, NewZealand (twice) and Australia in the process. But NewZealand were deserving champions too. They brought their best game when required, beat India in a thriller and played their hearts out in a thrilling and edge-of-the-seat final. They were unlucky to end as runners-up, but they weren't second best.
A first-time world cup winner, a two-day ODI, an Irishman lifting the world cup for his adopted country, nice guys not finishing first yet again and a tie within a tie – This World Cup had everything, and even more!