Watching someone relive their worst moments on television with his mates has to fall under "cruel and unusual punishment". Luckily for the Australian team, they were in Headingley rather than the States.
Nathan Lyon worked as a ground staff member in Adelaide in 2010. A decade later, he sits behind only Shane Warne and Glenn McGrath when it comes to Australia's leading Test wicket takers. I usually find it tough within me to find any empathy towards Australians, since they've been so dominant all my life and haven't been the fairest of folks at times, whether it's Sydney 2008 or Sandpapergate. But watching Lyon in the documentary "The Test: A New Era for Australian's Team", oh man, I felt for him as he watched the final moments of the match. He sat there, shoulders drooping, hands covering and circling his face, as he tried to look away from the screen, all while Nasser Hussain on air exclaimed "He's fumbled!"
"I was absolutely gutted. Thinking I've lost the Ashes. But I knew I couldn't dwell on it. I had to… had to get up to bowl this last ball. And at the top of my mind, I'm thinking "Okay, what type of shot is he likely to play? What type of shot do I want him to play? How am I going to get him to play that shot. It comes back to me bowling my last ball." And then, it cuts to him appealing, no begging, umpire Joel Wilson to put his finger up. Wilson just nods his head and this time Nasser Hussain shouts, "They needed that review. They needed that review!"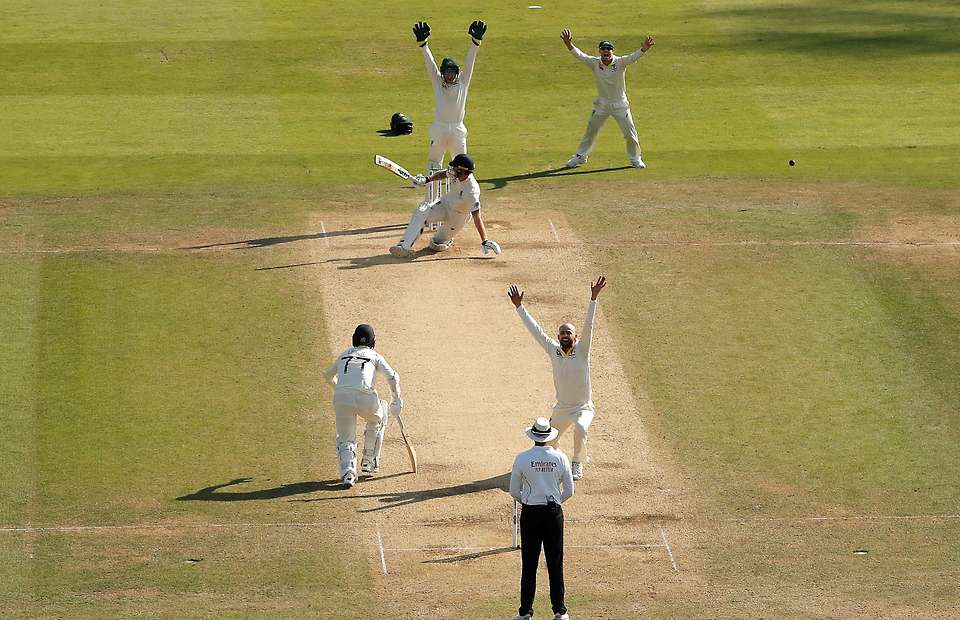 The Setup
There's a 5 minute clip I watch on YouTube every time I need a lift in life. Highlights of the Final Day of the Third Test Match at Headingley. It's one of the greatest games I've witnessed and trust me, there is no recency bias here.
Firstly, it doesn't any bigger than competing for the urn. Steve Smith being knocked out of the previous match by Jofra Archer, only for Marnus Labuschagne, the concussion substitute, to deny England a series equaling win spices this match up while leveling the playing field. There's also a question whether the English have recovered from their Houdini like escape in the World Cup Final. Only if they knew that a Part 2 was coming.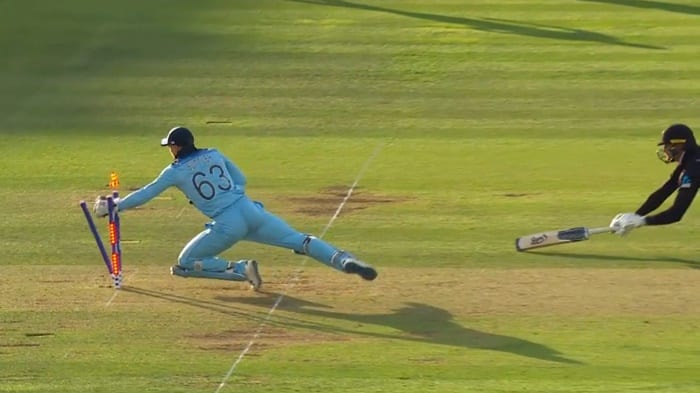 The first bit of drama comes with Australia collapsing from 136-2 to 179 all out, thanks to Jofra Archer's six wicket haul. England in the driver's seat, right? Except 27.5 overs later, England are skittled out for 67 thanks to Josh Hazlewood's five wicket haul. The drama's just getting started.
Australia set England 359, thanks to Labuschagne's second fifty of the match. It could have been more, were it not for Ben Stokes's mammoth unchanged spell of 24 overs. Remember that name. Ben Stokes. It's going to be coming up a bit as we approach the climax of this riveting test match.
The Chase
Only 9 times in the entirety of Test Cricket had a target in excess of 359 been chased down. There have been almost 2500 Tests played. The odds were under half a percent, in case you were wondering. At 15-2, with both openers back in the hut, things weren't looking too bright but the two Joes put together a century stand. Joe Denly fell towards the end of Day 3 and England went into Day 4 with their captain, Joe Root on 75*, and the magician, Ben Stokes on 2*.
Root fell to a stunning catch at slip early in the day and the onus fell on England's middle order once again to tack on the remaining 200 runs. On the other end, Stokes was laboring. 3 runs in 73 balls. 9 in 82 balls. Bairstow and Stokes got the ball moving and just as England began dreaming, Bairstow fell with England needing 114 runs and Australia requiring 5 wickets.
Then Butler got run out. Woakes spooned a catch to cover. Archer top edged a sweep. Broad was caught dead in front of the stumps. Australia were one wicket away from retaining the Ashes. England needed 73 runs. In other words, a miracle.
The Miracle
Ben Stokes wasn't supposed to be here. Four years ago, he was on the receiving end of four consecutive sixes, defending 19 in the final over, from Carlos Braithwaite in the WT20 final. Two years ago, he was arrested for a brawl in Bristol which led to him missing the Ashes in Australia in 2017, in which England were whitewashed 4-0. But here he was. After taking England over the line in the most incredible fashion in the 2019 World Cup, he had already cemented himself as a great of the game. But little did he know that he was about to enter legendary status in a few hours.
Jack Leach walked in at #11. A bald spectacled man with Crohn's disease, he's not your typical athlete. He had showed himself as a more than capable batsman as a nighwatchman opener against the Irish putting on 92. But this was against Pat Cummins, James Pattinson, Josh Hazlewood, and Nathan Lyon, possibly the best international bowling attack.
When Leach joined Stokes in the middle, Stokes was 61* in 174 balls. That's when Ben Stokes decided he had enough. He was not going to die wondering. The counterattack began. Ramps came out against Pat Cummins, the #1 ranked Test bowler, Hazlewood got taken apart for 19 in an over, and my favorite, a reverse sweep for six against Lyon who was bowling into the rough (if you haven't seen this shot, watch it right now). The impossible was suddenly looking possible. Australians were under the pump.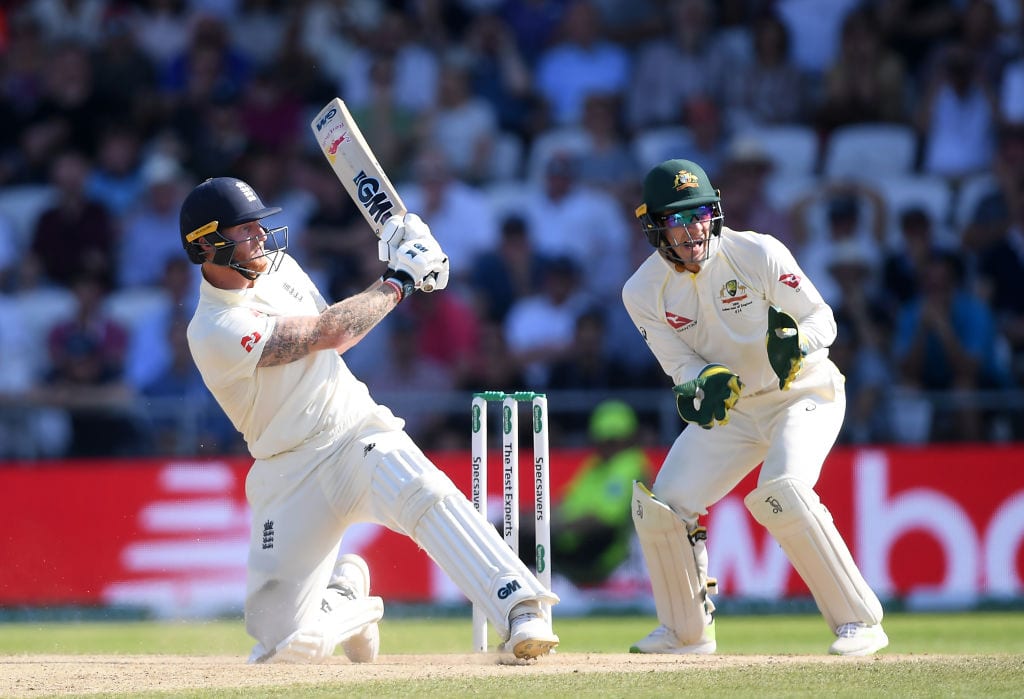 In the dressing room, Justin Langer mentions that "Stokes had a golden summer". Steve Smith nervously claims, "Stokesy is closer to doing something stupid". The Australians could sniff victory but knew that this man stood in between. But like everyone watching, we knew it was just a matter of one delivery. Pat Cummins says, "They're gonna hit one up.". He did with 17 runs left. But Marcus Harris dropped it. "That split second, I've just dropped the Ashes" is Harris's recollection of the moment.
The 125th over of the innings is where this game elevates into elite status as a Test match. With eight runs needed to win, Stokes takes on Lyon down the ground. The shot doesn't come right out of the middle and as the ball sails towards long off, the crowd just goes silent as the ball hangs in the air forever, only for it to clear the fielder by a mere inches. Two runs needed to win. Piece of cake for England you would think, right? Except pressure is a funny thing. Stokes audaciously reverse sweeps the ball only for it to find short third man and Leach is stranded next to Stokes, only for Lyon and Australia to go through two of the most agonizing moments in the history of cricket in a span of two balls.
The Aftermath
In the next over, Leach finally gets off the mark to score the tying run and Ben Stokes, fittingly hits the winning runs. What an advertisement of Test cricket it was. It proved to us once again that sports is the highest form of drama. Take a look at the narratives. The rise of Marnus, the collapse of the English, the wasted review that ended up haunting the Aussies, the fumble heard around the world, the defiance by the common man's hero, Leach, and of course, the individual glory of Ben Stokes. England have been blessed with a genuine all rounder for decades with the likes of Botham and Flintoff but the summer of 2019 probably vaulted Stokes ahead of them, purely on his match winning ability and ability to play the situation.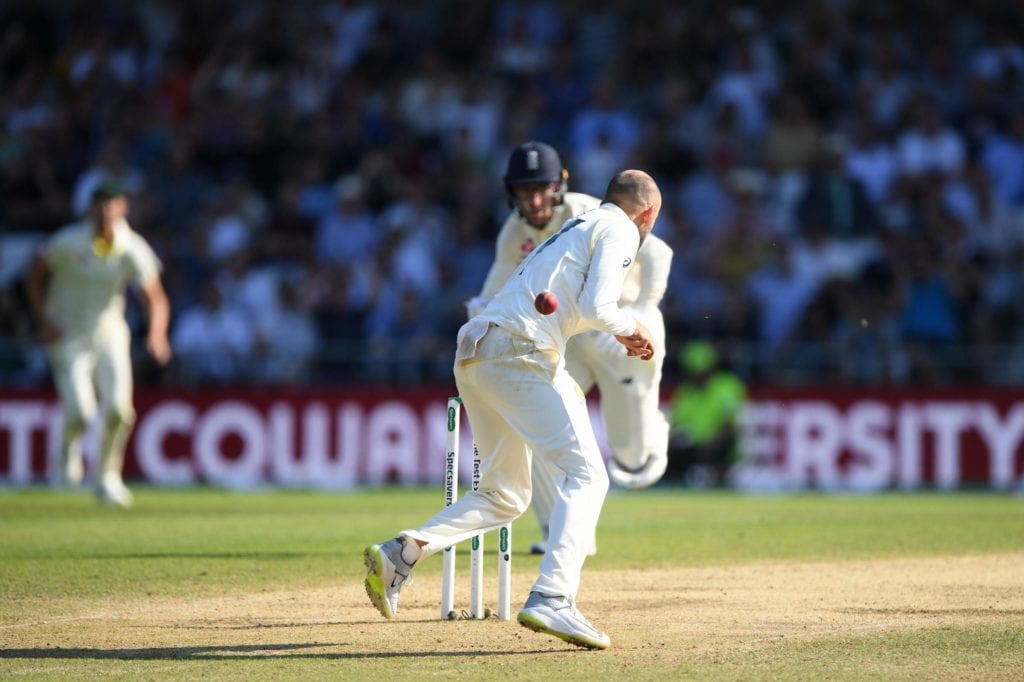 Cricinfo writer, Andrew Fernando, expresses the changing of gears in Ben Stokes's innings. "He got off the mark with a single off his ninth delivery, then didn't score another run for 30 balls. His first boundary didn't come until the 74th delivery he faced. And yet in the home stretch Stokes' innings was gloriously manic. He clobbered seven sixes and four fours in the last 42 balls he faced, hitting 74 through that period. No batsman has ever made such a dramatic transition in an innings. The difference in strike rate between Stokes' first 60 balls and last 60 is 135 – the highest ever."
Cricket teaches a lot of life lessons but the one Test cricket always teaches is that cricket and life are both a game of patience and you must choose your battles if you want to have the best chance to succeed. And when you play your cards right and get a bit of the rub of the green, greatness ensues. Just watch Ben Stokes's 135* at Headingley whenever you doubt that sentiment.