It has been less than a month since the 2019 Cricket World Cup came to a conclusion (and a bizarre one at that!), and we are already looking forward to the second Ashes test match at Lords! In the time between the world cup finals and now, England have already played 2 tests, Srilanka comfortably beat Bangladesh 3-0 in an ODI series at home, and India, amidst all the drama outside of Cricket, continue to win matches without straining their sinews. Are we playing too much Cricket? Anyway that's for later!
But amidst all the Cricket happening in the world, the Ashes undoubtedly remains the cynosure of all eyes.
Love him or Hate him, you just can't ignore him!
It was March 2018 when Steve Smith, David Warner and Cameron Bancroft committed Cricket's greatest blunder. After admitting to ball tampering, the trio was suspended from international cricket for a year. In hindsight, they would now feel very lucky to escape with just a 1-year ban for an offense that is looked down upon with great disgust in the Cricketing world.
Fast forward to Edgbaston 2019, where the two biggest rivals are ready to face each other in arguably the most enthralling and fascinating spectacle test cricket has to offer – The Ashes. Steve Smith walks in to bat in just the 8th over with his team struggling at 17/2, and the crowd taking every opportunity to remind him of that one thing he is struggling to move on from. Smith stands there, and watches his colleagues fall like a pack of cards.  17/2 quickly becomes 122/8. With only Peter Siddle and Nathan Lyon to come, Australia are in shambles.
In a way, this was the perfect situation for Smith to break free of his shackles and express himself. In Siddle, he found the perfect partner-in-crime. The 88 run partnership that those two stitched together would eventually become the difference between the two sides. Smith goes on to a score a magnificent century, returns to bat again in the next couple of days, once again with his team in desperate trouble, this time at 27 for 2, and yes, completes another century. In the post-match interview, he admitted that the thought of never playing test cricket again after that 2018 incident crossed his mind several times. But, he is human after all, and a very competitive one at that, and Cricket is a game that provides second chances to its players.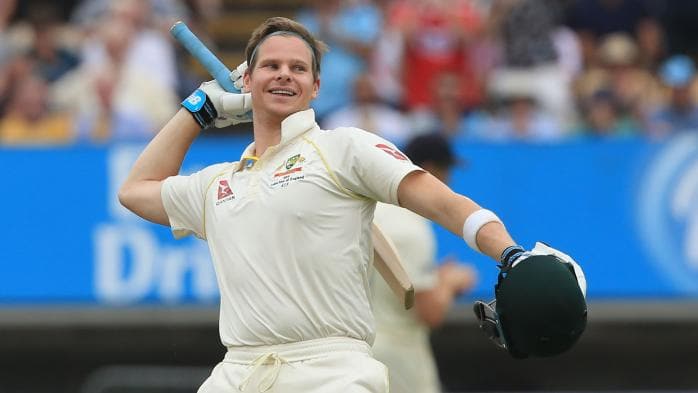 There is nothing pretty about the way Smith bats – the clumsy high backlift, the ungainly descent of the bat from way up, the awkward movement of the feet and the ungraceful follow-through. But in between these gauche movements is that one thing that defines the man – the ball hitting the middle of the bat more often than not. The success of a batsman depends on the percentage of the balls hitting the sweet spot, and in that sense, Steve Smith is one of the most successful batsmen in world cricket today. You can dominate him throughout, but when he gets a sniff, he finds the energy and enthusiasm to get right back on top. And thats exactly what he did at Edgbaston.
Love him or hate him, you just cannot ignore him – he gets back to you right at your face!
Lyon wins the battle of the spinners hands down
If at all there was a battle of the spinners in this test, it belonged to just one man right from the beginning. Nathan Lyon has time and again delivered the goods for his country, and he did not disappoint once again. With match figures of 63.5 overs, 9 wickets for 161 runs, Lyon made sure England did not bat out day 5 and get away with a draw.
The thing about Nathan Lyon I like the most is that he keeps things very simple. You don't see him talking about doosras or thiisras that often, nor does he come up with new inventions of off-spin bowling. Definitely not one to produce too many variations with the ball, Lyon depends on flight, dip and bounce to overcome the defence of batsmen. In some ways, he is the conservative off-spinner that we don't see much in world cricket today. But one thing he consistently does is pick up wickets. One would think that a bowler like him would struggle in less helpful pitches across the world, but he has hardly let his team down, wherever he has played. And he definitely lived up to his billing as the 4th inning destructor-in-chief in this game. As the Ashes's spin king, Lyon has to continue to play a very big role if Australia wants to retain the urn.
The Men in the Black and White Jersey
Talk about facing scrutiny, and the first people on the list are always the men in the black and white jersey. It is fair to say that Aleem Dar and Joel Wilson did not have the best of times during the first Ashes test.
Wilson's decisions were overturned 8 times by lunch on the 5th day. His colleague did not fare any better either. Umpiring is a very challenging and in a lot of ways, a thankless job, and it only gets bad when one starts making mistakes.  What makes it even worse is if one of your mistakes changes the course of the game! There is no hiding place out there in the middle when that happens. You just have to carry on with your job and hope that the next decision you make is the right one. At the end of the day, if no one talks about you, it means you have had a very good game. If anyone praises you, it means you performed fabulously.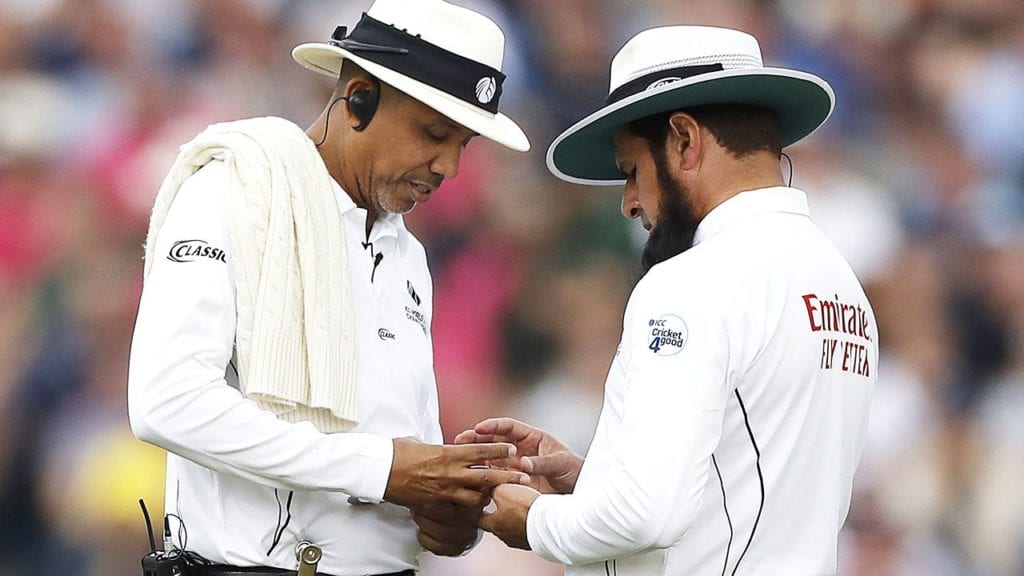 While some of the incorrect decisions were understandable (Warner's first ball nick down the leg side was not the easiest to judge), most others were not. Umpires, especially the Elite panel ones are selected based on a number of factors in a very rigorous system. Joel Wilson was only recently promoted to the Elite panel and this was not the introduction he would have expected. All eyes will be on him when he returns to stand in the 3rd test match. The more experienced Aleem Dar will also have to get back to his best as he will be returning immediately for the next game.
Unlike players, umpires can't go out to the nets and work on their bowling or batting. They cannot do much about changing their technique, although slight changes in stance and position have helped before. The most they can and will do is to review their decisions on TV replays and see where they went wrong. And before coming back for the next appearance, they have to clear their headspace and make sure that the first decision they are required to make ends up being the correct one!
Moeen Ali – the puzzle!
Moeen Ali in test cricket is a puzzle that England is yet to solve. He batted at number 8 in this test match, which should tell you that his role is primarily that of a bowler, in this case, the main spinner in the side, who can also contribute handily with the bat. But as the main spinner, he delivered only 13 out of 80 overs in the first innings. This is despite the fact that James Anderson left the field after bowling just 4 overs, and never returned to bowl another delivery in the match.
But it is Root's treatment of Ali as a bowler in the second innings that strikes an even louder note. Root bowled himself and Joe Denly for a combined total of 26 overs in the innings. That is just 3 overs lesser than Moeen's 29 in the same innings! And most of those 26 overs were not bowled in tandem with Moeen. And all this when Smith, Wade and Travis Head were making merry with the bat. Compare this to Lyon's 64 out of a total of 188 overs in both innings combined, it clearly tells us one thing – that Root's confidence in Moeen as a spinner is not at an all-time high.
With a shoulder injury keeping Adil Rashid out of the team, Moeen might get one more chance to prove his worth with both bat and ball. Runs off his bat will no doubt help, but it is with the ball that Moeen needs to deliver if he wants to make any impact in this Ashes series.